When I speak to visual practitioners who work mainly on paper or boards with markers and pastels, they all say the same thing: working digitally makes me slower!
I disagree.
Of course, when you start working in any new medium there is a learning curve and it takes you a while to become comfortable with it. Don't get me wrong, I love paper! The texture, the feel and all the other wonderful tactile supplies you can use…but I also love the options that working digitally provides!
If you have been following me, you will know that I work on an iPad Pro and I primarily use the Adobe Illustrator Draw app.
You don't need to start using the same app as I do in order to take advantage of the 5 tips I will share here. So, let's go!
1. Use only 2-3 colours
When you need to work quickly, you should limit everything you can. One place to start is with a limited colour palette. Not having to switch between colours allows you to be quicker and rely on a limited set of tools.
You might also want to work on a coloured background instead of choosing a white one.

Play with the opacity options and layering as a way to create different colours: dark green, lighter green, etc.

This allows you to minimise the need to use different colours while drawing. And that will help you work quickly.
2. Fill images quickly with one quick fix
In the examples shown here, I have mostly limited myself to images that are filled with white colour.

How do I do that quickly?
Colour people & objects quickly by using a colour layer under your drawn object. Then merge them. Erase or delete any of the extra you don't like.

(If you are working in Procreate, you cannot use the eraser to delete things quickly—so remember to erase the parts you don't want to be coloured in when the colour is still on a separate layer.)
Browse through the examples and reflect on how I might have used this colour fill strategy.
3. Create connection quickly: use colour to group or chunk thoughts together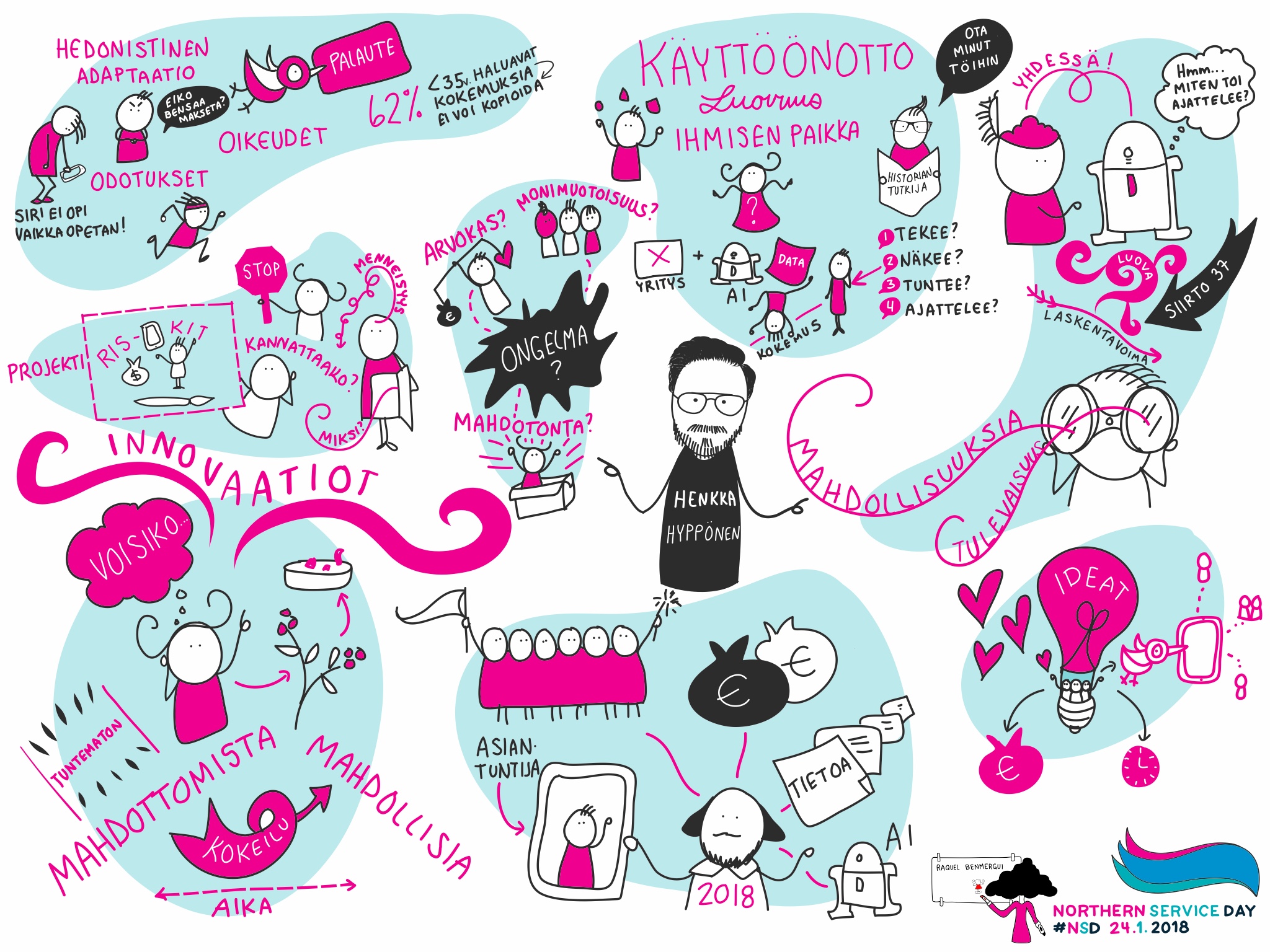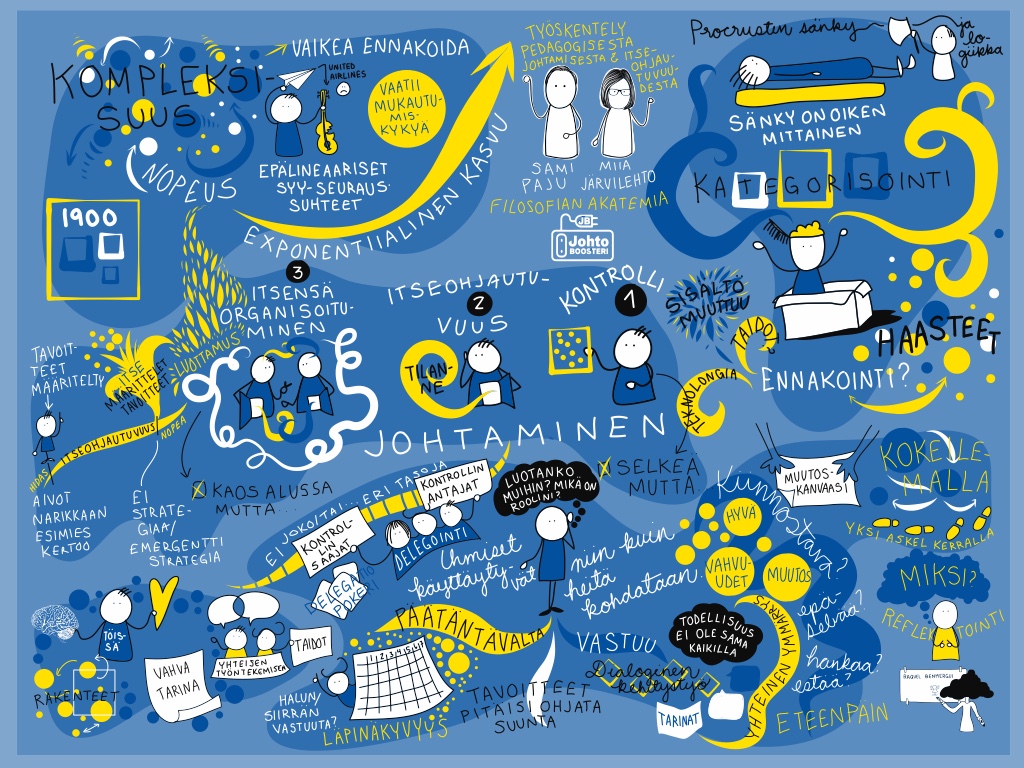 This is so easy when working digitally!

Just create a new layer under your drawings and draw "blobs of colour" that will group or chunk thoughts together.

I use this strategy a lot (maybe too much?!), but it creates unity, clarity and connection when you are working quickly.

As I said earlier, play with opacity and you can have a larger range of colours—without sacrificing speed!
4. Create a collection of predawn images
Never want to have to draw a soccer ball, globe, bicycle or moose again? Create a bank of images you either dislike drawing or you find time-consuming to draw live. Create stamps or shapes that you can use in Adobe Illustrator Draw without having to draw them from scratch each time.
There are many apps for capturing images and different solutions for different apps. Adobe users can use the Adobe Capture app. Here is an illustrated workflow of using Adobe Illustrator Draw & Capture.

First, choose to draw whatever image you want to avoid drawing from scratch in the future. For some it may be the dreaded car or animal—my nemesis has always been the "soccer ball!" Follow the numbered steps below and you will be on your way!
Procreate users, cannot use the workflow outlined above, but you can create a "stamp brush". Basically you create a new brush where the tip or profile of the brush is your desired image. Watch this video to learn how to create one: https://www.youtube.com/watch?v=IgCm668xApM

There is no perfect app out there for us to use as visual practitioners! You need to embrace the mentality that you can always find a workaround. Invent your own tools or workflows! Ignore what things are called or labelled. An eraser is not just an eraser—it can be an additional pen!
Think: limitation is inspiration!!! Just say to yourself "Hmmm…I wonder if…what if I try this…" And then TRY IT! (Undo is your greatest friend when you try new digital solutions!)
Make sure you stay on top of the app updates, be in contact with the creators of the apps and tell them what features you need—and keep searching on a regular basis to see if someone somewhere has figured out how to make the app do what you want it to do!
If you want to dig deeper, find out how you could be working differently or more about the digital possibilities you haven't considered yet, then join me in Chicago October 7 & 8th for an immersive 2-day workshop: The Thriving Digital Visual Practitioner.❤️